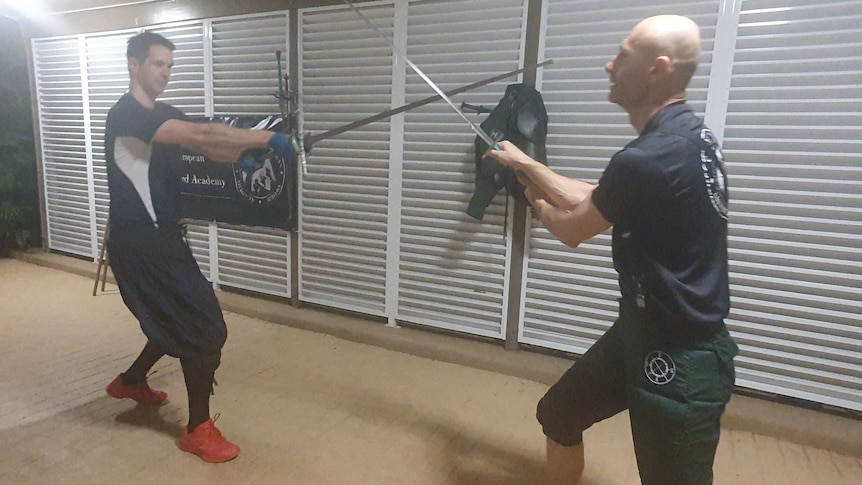 Sparring with long swords and sabres while wearing thick, protective fencing gear is not the type of activity you would expect to see in the tropics.
It is more suited to knights on a battlefield or sword-wielding pirates.
But the dedicated members of the Cairns European Sword Academy meet weekly to train and perfect their sword skills, persisting in the oppressive humidity of Far North Queensland.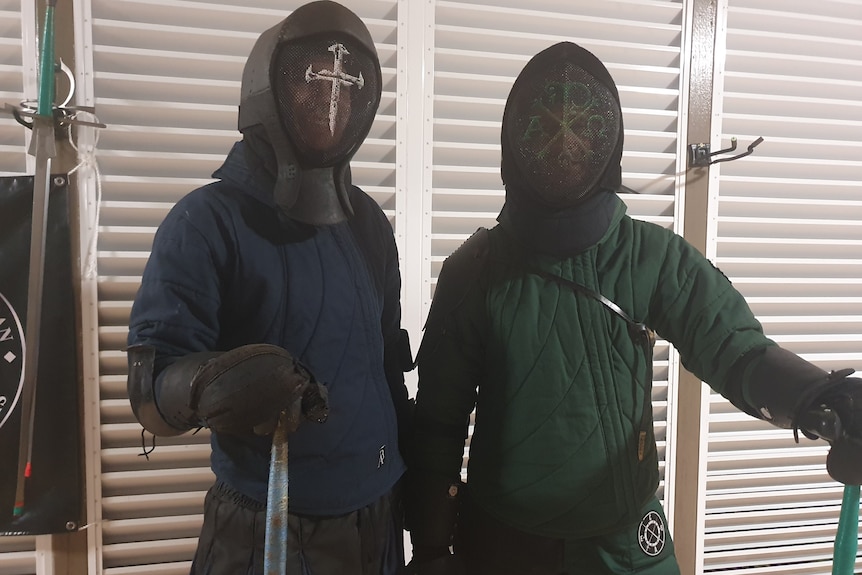 The protective fencing gear is incredibly hot to wear, especially in Cairns' humidity.(ABC Far North: Amanda Cranston)
Vesselin Petkov co-founded the club in Cairns seven years ago with Luke Dornan after they met through work and discovered they shared a love of history and medieval martial arts.
With no active club in Far North Queensland, the men acquired a couple of old sword-fighting manuscripts and started interpreting them — using broomsticks as weapons.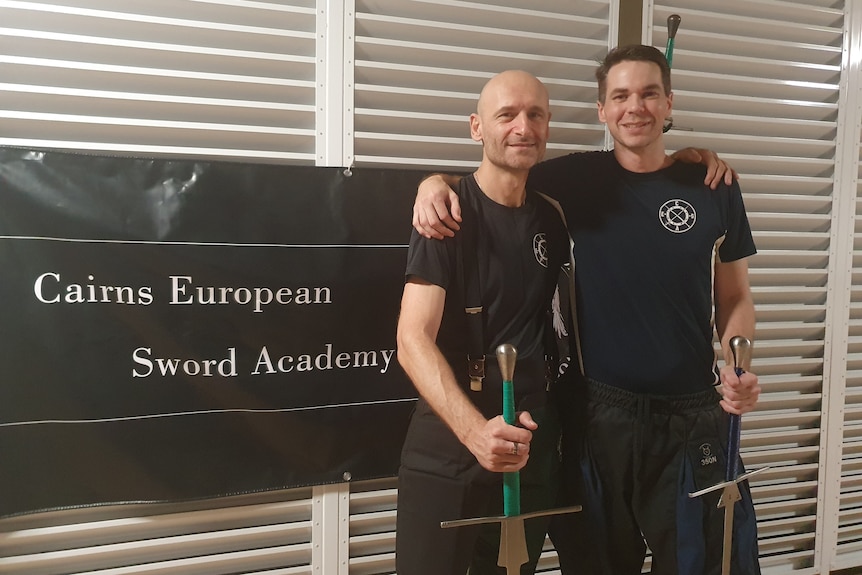 Mr Petkov and Mr Dornan started the Cairns European Sword Academy about seven years ago.(ABC Far North: Amanda Cranston)
"The manuscripts have been translated into English from medieval languages, mostly Italian and German, and were designed for medieval knights to be able to deal with any sort of situation on the battlefield," Mr Petkov says.
"And we fight using blunt weapons so we are in no danger of stabbing or cutting each other.
"But we can still break fingers and concuss ourselves."
Kitted out and sweating it out
Luckily Mr Dornan is a doctor and Mr Petkov is an anaesthetist, so they are useful to have around if anyone injures themself, but they also wear protective clothing, which is basically reinforced Olympic fencing gear.
Due to the humidity in Cairns, they mainly wear the jacket, gloves and mask when sparring because wearing the full kit can be incredibly uncomfortable.
"When we are getting close to a competition we put more gear on and increase our heat resistance, but the jacket ends up pretty drenched," Mr Dornan says.
"A typical match only lasts about three minutes but it's a hot three minutes.
"The worst part is probably the stink, because your jacket and pants get so wet and drying them out takes so long and then washing them takes even longer to dry out."
It is not a common sport and certainly not one that is widely known in the region, but Mr Dornan says it is fun and there is a great camaraderie.
Gathering for national tournaments
There are about 50 clubs in Australia under the Australian Historical Fencing League banner, and they get together throughout the year for national tournaments.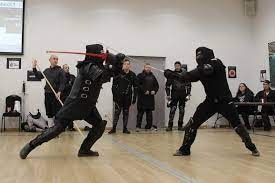 Players battle it out with swords during a Historical European Martial Arts tournament.(Supplied: Ursa Major HEMA Academy)
The league helps club members track their performance in competitions and provides an up-to-date national ranking throughout the year, all of which falls under Historical European Martial Arts, known as HEMA.
Mr Dornan is currently ranked eighth in Australia and Mr Petkov is ranked seventh, which is a huge achievement considering they are a small club of just five members in Cairns.
"It's more than just a physical sport though. It's a mental sport too because it challenges you to think laterally and how you approach situations," Mr Dornan says.
"And it's a bit of a dance when sparring because players have such different styles.
"Some are quite flourishy and dramatic in how they fight, and others are very singular and tight in their movements."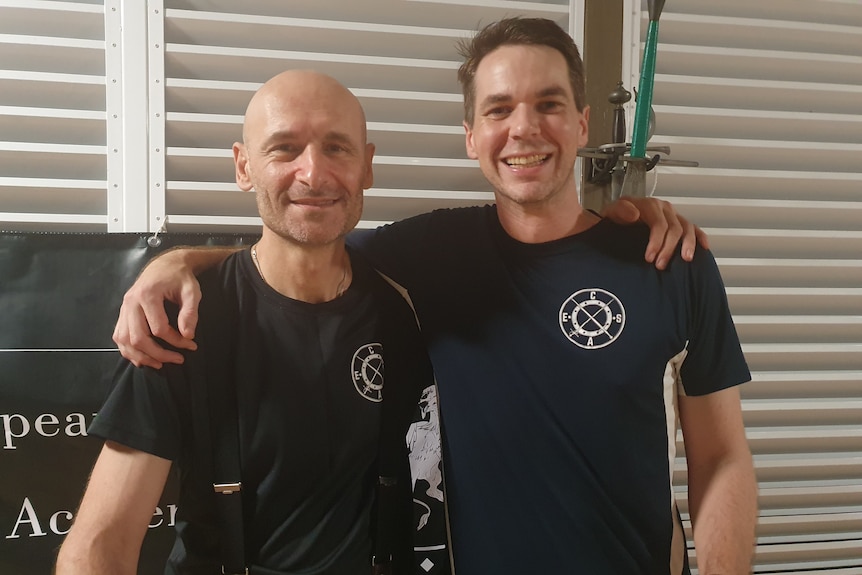 The doctors love the camaraderie within the club and with other clubs around Australia.(ABC Far North: Amanda Cranston)
Weapons of choice
Mr Petkov says they fight with longswords, side-swords, British infantry sabres, rapiers, daggers and spears.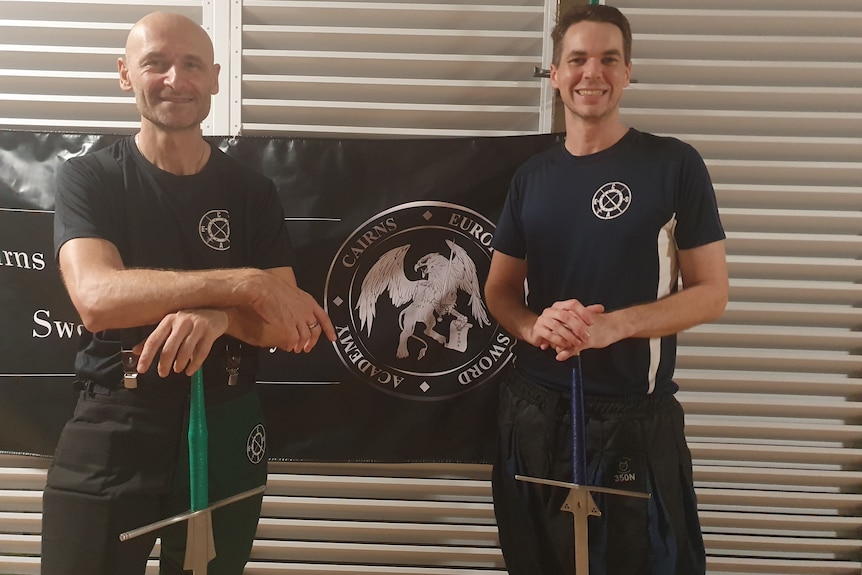 The Cairns club has five active members but wants to welcome new players.(ABC Far North: Amanda Cranston)
"The longsword is the most popular weapon and was used for about two centuries from the mid-1400s to the mid-1600s," he says.
"It's a cut-and-thrust weapon because plated knights were quite invincible. They had thick armour and were built like mobile tanks.
"The side-sword with its fancy handle was also popular, especially with pirates, and at that time there was a lot of duelling happening in Europe."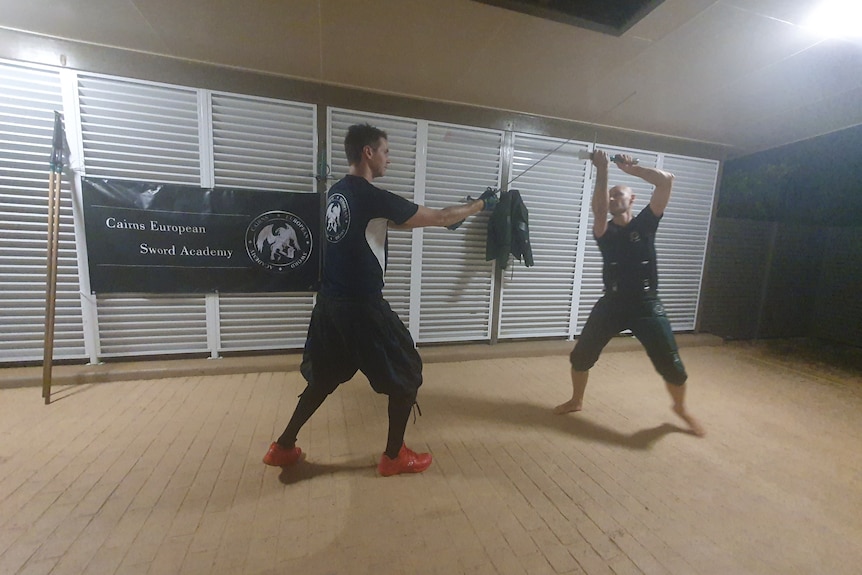 The humidity in the tropics sometimes makes sparring a hot and sweaty experience.(ABC Far North: Amanda Cranston)
Re-enacting the Middle Ages
Mr Petkov says 80 per cent of what they practise is based on fencing and includes grappling, disarming and different sword techniques.
"We try to implement modern equipment and re-enact what they used to do in the Middle Ages," he says.
"We fight with relatively weighty weapons but they're not like the swords you see in the movies. They're actually fairly well balanced, streamlined and well designed."
Television shows like Game of Thrones, Vikings, and the Pirates of the Caribbean film franchise have attracted new participants to the sport.
But others like Mr Petkov and Mr Dornan are history buffs who just love to re-enact the battles of medieval times.
Mr Petkov says he wants to see more people take up the sport and hopes to find an indoor training venue so his club can train in air-conditioning.
"The humidity can be a problem at times because we need to hold our swords to fight and we are always sweating in the heat," he says.