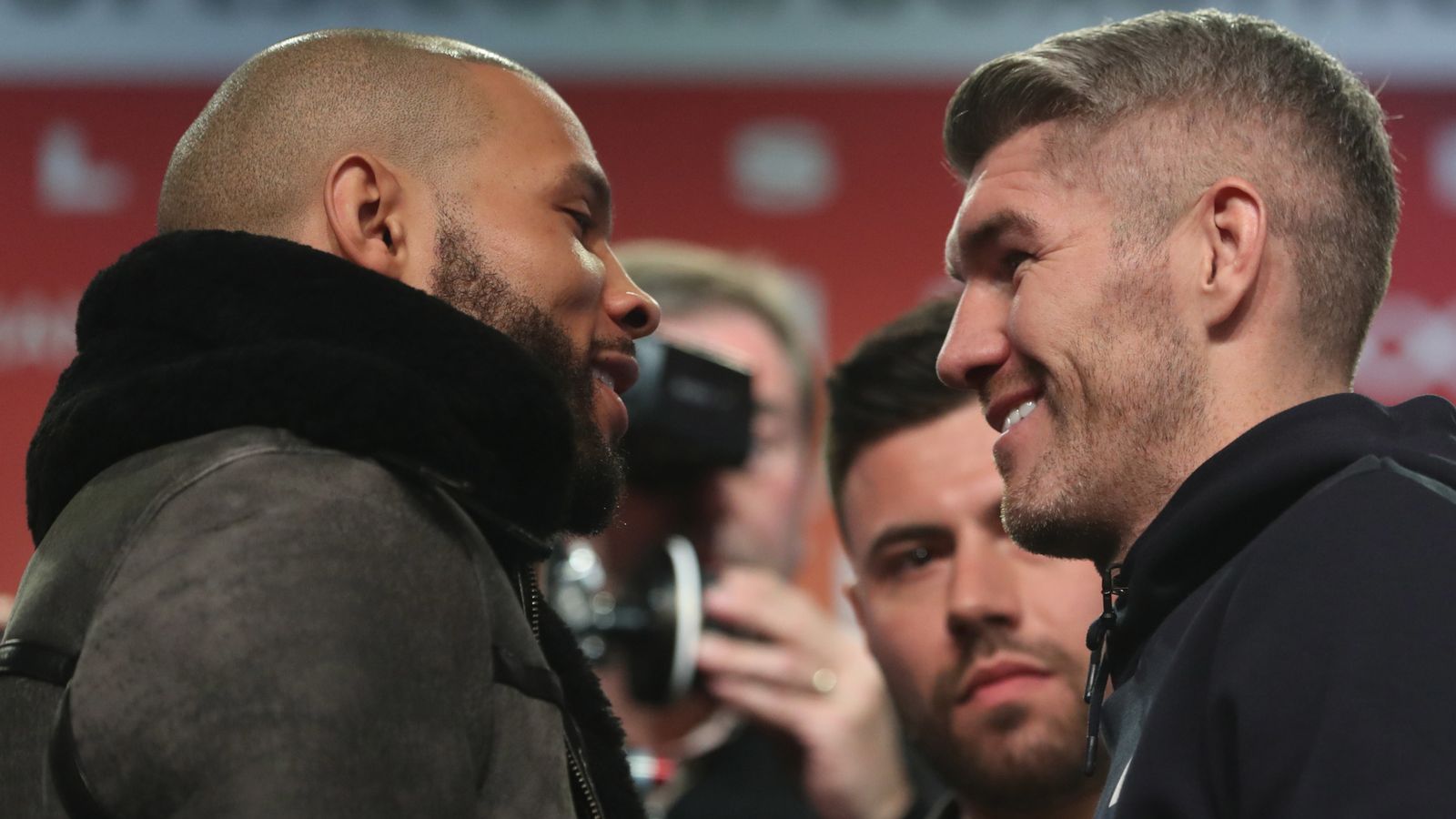 There could be a surprise when Liam Smith fights Chris Eubank Jr tonight at the AO Arena in Manchester, live on Sky Sports Box Office.
There is an expectation that Smith will meet Eubank Jr head on. That in this middleweight clash the two will work their way forward and fight to see which of them can hold their ground on the front foot.
"That's a way I can beat him," Liverpool's Smith told Sky Sports. "That's not a way I'm going to promise you I'm going to beat him.
Please use Chrome browser for a more accessible video player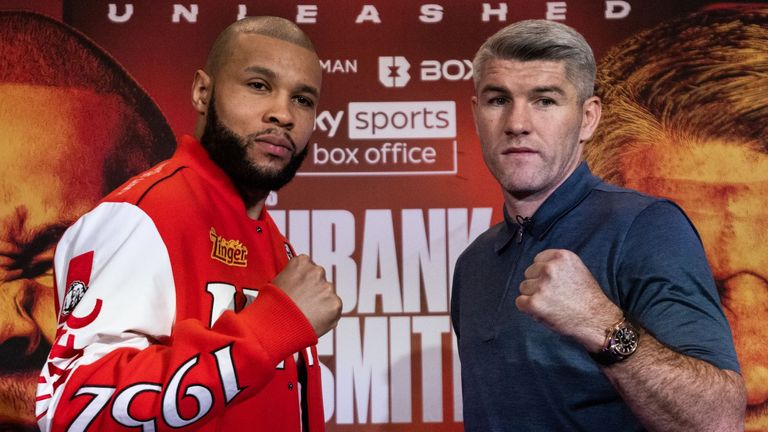 Don't miss Chris Eubank Jr vs Liam Smith, live on Sky Sports Box Office!
Smith could still catch Eubank Jr off guard.
"I'm a better boxer than Chris Eubank. I've got a better boxing brain than Chris Eubank," he said.
"When I have to sit and push him back and fight, you won't have to ask me twice. But I'll do it in my moments, not Chris' moments.
"A lot of things will play their part," he continued. "[It's] who can get their gameplan off better.
"We're not going to just go in and have a ding dong. It will end up like that at certain stages.
"We'll see how the fight starts. I'm sure it's going to be interesting, I'm sure it's going to surprise a few people."
Eubank acknowledged: "There's always that possibility. That they come up with a completely different gameplan to what everyone thinks they're going to do."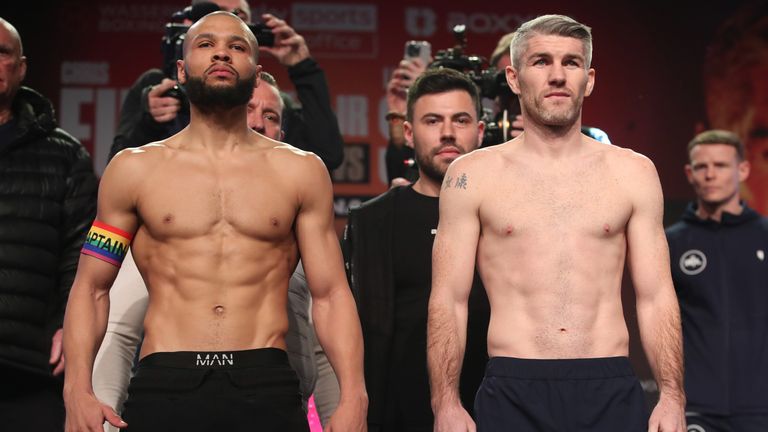 Image: Chris Eubank Jr and Liam Smith at the weigh in (Photos: Lawrence Lustig/BOXXER)
But he warned: "I think that'll be very unwise of him to change his bread and butter at 34 years old. But give it a try."
At his most impressive Eubank Jr advances and throws firm punches in combination. But in recent fights, and now with boxing legend Roy Jones as the head coach in his corner, Eubank Jr has also looked to box with more variety.
"I know exactly what he is. I know how to deal with guys like that," he said of Smith. "It's going to be tough for him."
Smith himself is no straightforward brawler. He can exert pressure, but uses craft and experience. He has held the WBO title at super-welterweight and boxed at the top level, including a creditable showing against Canelo Alvarez at 154lbs.
He is adamant that the core skills of boxing will dictate this fight. "Every time he's fought a decent fighter, with good fundamentals, he's lost," Smith said of Eubank.
"I feel I'm better in numerous departments than Chris. Punch variety I'm better than him, he's got very good handspeed because he's fit and he's athletic. Besides that, [and] size, fitness, I don't rate much else about him.
Please use Chrome browser for a more accessible video player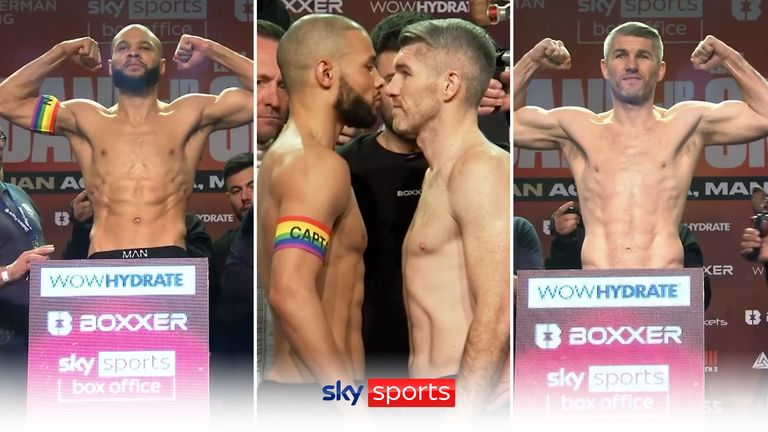 Chris Eubank Jr and Liam Smith face off at the weigh-in ahead of their huge fight in Manchester
"He's got a good chin so you know he's always there for the long haul."
But he added: "Don't take that for granted.
"Whether he can hold the same shot, I don't know."
After past sparring sessions, Smith believes Eubank could be vulnerable to the body. It's something Smith will look to exploit tonight.
That's not necessarily an examination Eubank Jr welcomes. "I'm never looking forward to getting punched in the face or the stomach. I'm an eccentric guy, but I'm not that eccentric," he said.
But he continued: "It always makes me laugh when guys pick these things out the air to try and use against me.
"His thing has been that I'm vulnerable to the body. Wow, what a guy to come out with that line after watching him fight Canelo."
Eubank Jr is promising to test Smith with body punching of his own. "It is a vulnerability in him. We've seen it. I've never been dropped by a body shot in a professional fight. So the things he says are very hypocritical," Eubank insisted.
Please use Chrome browser for a more accessible video player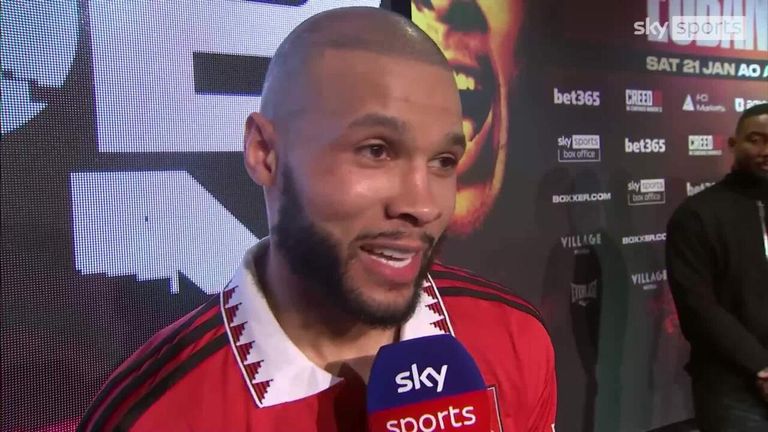 Chris Eubank Jr says he plans to win in devastating fashion after weighing in against Liam Smith
"It's a very strong possibility that he goes down from a body shot in this fight."
Smith is on a run of form that has seen him perform well against Magomed Kurbanov, despite a contentious decision defeat in Russia, and beat Anthony Fowler and Jesse Vargas. He is determined to continue that and ultimately become a two-weight world champion.
But a loss here could end that dream. It would leave Smith with few options and none of them enticing.
"I've retired many fighters in my career," Eubank said. "It might sound harsh but it's a very likely outcome. He can't beat me. He's going to get hurt and where does he go after this fight? So we'll see."
Please use Chrome browser for a more accessible video player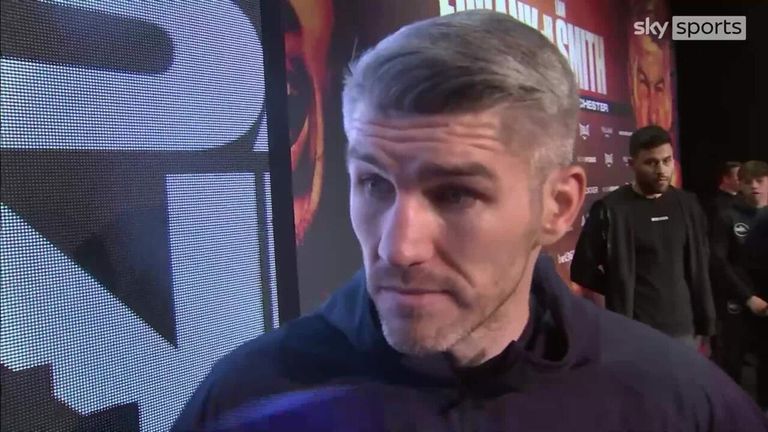 Liam Smith insists Chris Eubank Jr made their fight personal and he's 100 per cent confident he'll secure the victory
It's a thought Smith dismisses out of hand. "I've got no thought of retirement whatsoever. Again with momentum I feel I'm getting very good form," the Liverpudlian said. "I know I'm getting better.
"People are forgetting Chris is 33. He's 33 himself," he added.
"I know what my body can do and I'm still here at 34 and I'll beat Chris Eubank Jr."
Where the fight will be won and lost
Top trainer Dave Coldwell said: "For me, Liam Smith is a better fighter. He's a more rounded fighter, he's a more proven fighter with levels of opposition, what he's done, what he's achieved.
"I think the 160lbs will suit Liam because as a fighter gets older, a new weight can give him a lease of life. So that even things out a little bit. Just because of timing, I think it's a close fight.
"If Liam can get through those moments as he warms into a fight, he gets into that rhythm and he gets into that way when he just goes through the gears. I'm not saying he can stop Eubank but he's a very, very good body puncher.
"I don't think Eubank's fought anybody that's hit him with body punches yet. We know that Eubank's got a great engine but he can slow him and he can affect his performance by being a good body puncher."
Please use Chrome browser for a more accessible video player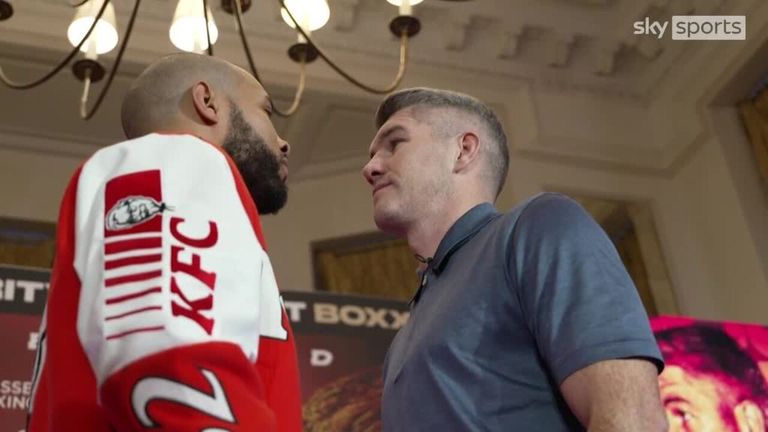 Matthew Macklin believes some of Chris Eubank Jr's pre-fight comments may have infuriated Liam Smith but he will keep his composure in the ring
Former middleweight contender and Sky Sports pundit Matthew Macklin said: "I think if Eubank comes out at the very first bell, stands in the centre of the ring and fights Smith and pushes him back and imposes his physical size, then I would lean to Eubank. Because I think he's a little bit fresher.
"But against Liam Williams he boxed, against Marcus Morrison he boxed. If he keeps boxing like that, I think he loses what makes him good.
"It's not that he's bigger, because Liam in weight will be similar on the night. But Eubank's been in there with the likes of George Groves, he's been used to getting hit by bigger people.
"I just think if he wants to push him back and he makes his mind up to stand his ground, I think Smith will find it difficult.
"Over 12 hard rounds it could get pretty brutal."
Chris Eubank Jr vs Liam Smith is on Saturday January 21, live on Sky Sports Box Office. Book it now if you are a Sky TV subscriber or a Non-Sky TV subscriber.