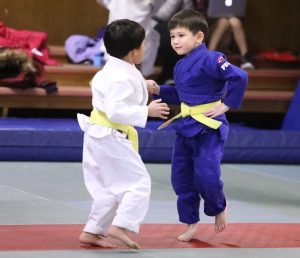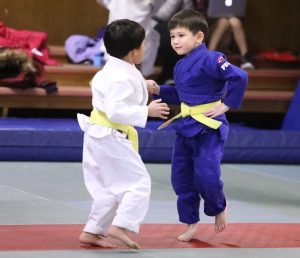 The foundation of our children's curriculum is the education and development of life skills, such as discipline, respect, confidence, socialization, learning to compete, self-control, mental, and physical perseverance.
The class focuses on developing the most fundamental skills that young students require to effectively learn Judo.  Examples of these skills are learning to fall safely, throwing techniques, and basic hold-downs.  This provides basic coordination, balance, speed, and agility.  By challenging their mind, bodies, and by learning something new every day, your child will see his/her improvement in themselves and therefore build true self-confidence, which carries over to all challenges in life. 
Through the development of these life skills, your child can achieve his or her goals on and off the mat, including excelling in school, in their social life, and anything else that life has to offer. Enrolling in Judo will change you and or your child's life forever. At Cranford JKC, we have been making positive changes to families since 1962. So call to come down and get your first trial lesson for free!  
                                               It's just that easy!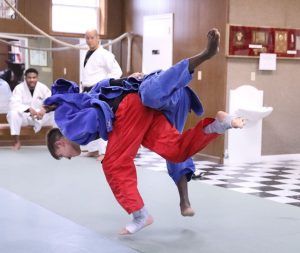 Whether you're interested in physical fitness, winning an Olympic medal, self-defense, or even an athletic social outlet, Cranford JKC is the dojo for you. We maintain a safe and positive environment for you to achieve your goals. The students in our programs experience many life-changing physical and mental benefits. You will find yourself more focused in both your business and personal life. You will feel better, perform better, and overall be better. All you have to do is get started. Stop doing the same mindless exercises at the gym and start working out with a purpose.
First, you will learn to fall safely in order to prevent injury during training when getting thrown. Training consists of drilling techniques as well as sparring which is overseen by the sensei. Judo is an effective means of self-defense by relying on forcefully throwing a larger, more powerful adversary to the ground, then applying grappling techniques to control an opponent once they are in a position of disadvantage by pinning, choking or arm locking to force submission. Rather than striking back, it allows the student to use his or her opponent's strength against them and subdue them without exerting undue amounts of power and strength. Judo is meant to be conservative with energy so it shouldn't take all of your strength to execute moves to stop an opponent. It also is meant to transform the student into a person more likely to contribute to society by emphasizing discipline increased focus and self-improvement. With the highest level of coaching you can get, why not get started and make a positive change for the rest of your life? 
So call to come down and get your first trial lesson for free! 
                                              It's just that easy!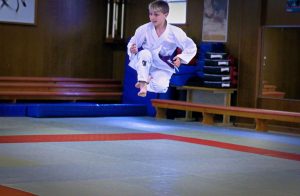 The dojo kun lists five philosophical rules for training in the dojo: seek perfection of character, be faithful, endeavor to excel, respect others, and refrain from violent behaviour. These rules are called the Five Maxims of Karate.
Aside from being one of the most effective methods of self-defense, Karate is an excellent form of stress management and aerobic exercise for the entire family. Using all the muscle groups, karate training develops flexibility, coordination, balance, posture, and muscle tone. It is a great way to improve your health and overall fitness. Karate training also teaches you discipline, increased focus and overall confidence that you will carry with you, on and off the mat.                                                                                                
Our Karate School is sensitive to everyone's unique abilities, and we understand that our students learn differently according to their level of dexterity and aptitude. The teaching style is adjusted in order to fit each student's learning style. We welcome students of  ages over 5 years and of all abilities.                                                                                            
Sensei Danny Chin is a 6th Degree Black Belt who trained under Yoshisada Yonezuka for over 50 years.  Sensei Danny teaches the Shito-ryu style of Karate, which is one of the four major styles of Karate in Japan.  So what are you waiting for? Just contact us to come down and get your first trial lesson for free!