A father at a school board meeting blasted critical race theory (CRT) for teaching his daughter that "her mother is evil," in his words, and influencing students of different races "to hate each other."
Ian Rice, a parent in Caledonia, Michigan, spoke out against CRT, calling out the district's schools for "failing" students, including his own two children.
"This theory," he said at the meeting, "was never meant to be brought into grade schools, high schools—at all. It's actually taught in the collegiate atmosphere—and more importantly, the legal portion of the collegiate atmosphere—to see different laws through the lens of race…from an ethical standpoint, not for grade schoolers and high schoolers."
Rice added that the problem he has seen in schools that teach CRT lies with the educators themselves. He said the educators are not properly trained to teach such a theory. "Instead, they're using it as their own agenda to indoctrinate the kids to hate each other," he said.
Rice, who is black, also said the teaching of CRT has been especially harmful to his daughter. "Critical race theory is teaching that white people are bad. That's not true. That would teach my daughter that her mother is evil."
He also brought up an instance where a teacher pulled his daughter aside and told her, "Well, you're a minority, so you know better than to engage in certain things," which elicited gasps from the crowd around him.
He mentioned that his daughter was ridiculed after he initially brought up the matter to the school board.
"What is your criteria to educate the educators?" Rice asked. "And who are you to educate my children—or any of our children—in life issues? That's our job. Your job is to teach them math and science. Our job is to teach them about life."
Rice echoed those same sentiments in a Wednesday interview with Fox News' America's Newsroom.
"Our kids need to be taught mathematics, English, reading, writing—those things," he said on the show. "And those things are what they are supposed to be teaching. Our kids' life issues are our jobs as parents."
Schools across the U.S. are seeing a backlash after implementing CRT in their curriculums. A June poll from The Economist/YouGov showed that 58 percent of Americans find the controversial theory somewhat or very unfavorable.
Another father's rant against CRT went viral last month. He told an Illinois school board that the theory was simply untrue. "You're going to purposely tell a white kid, 'Oh, the black people are all down and suppressed.' How do I have two medical degrees if I'm sitting here oppressed?" he asked.
Watch this parent absolutely obliterate Critical Race Theory at an Illinois school board meeting:

"How do I have two medical degrees if I'm sitting here oppressed?" pic.twitter.com/gmCRJaphXt

— Benny (@bennyjohnson) June 17, 2021
Newsweek reached out to Caledonia Board of Education President Marcy White for comment but did not hear back in time for publication.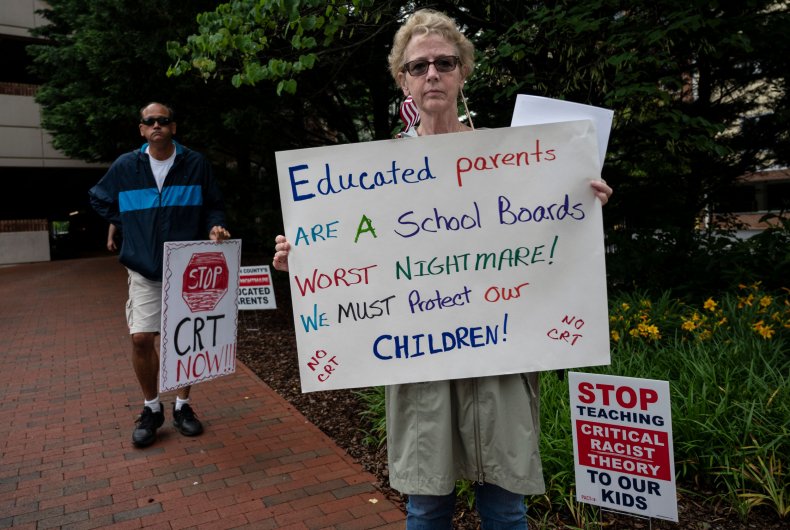 People demonstrate during a June 12 rally against the teaching of critical race theory in schools in Leesburg, Virginia. ANDREW CABALLERO-REYNOLDS/AFP via Getty Images

Source