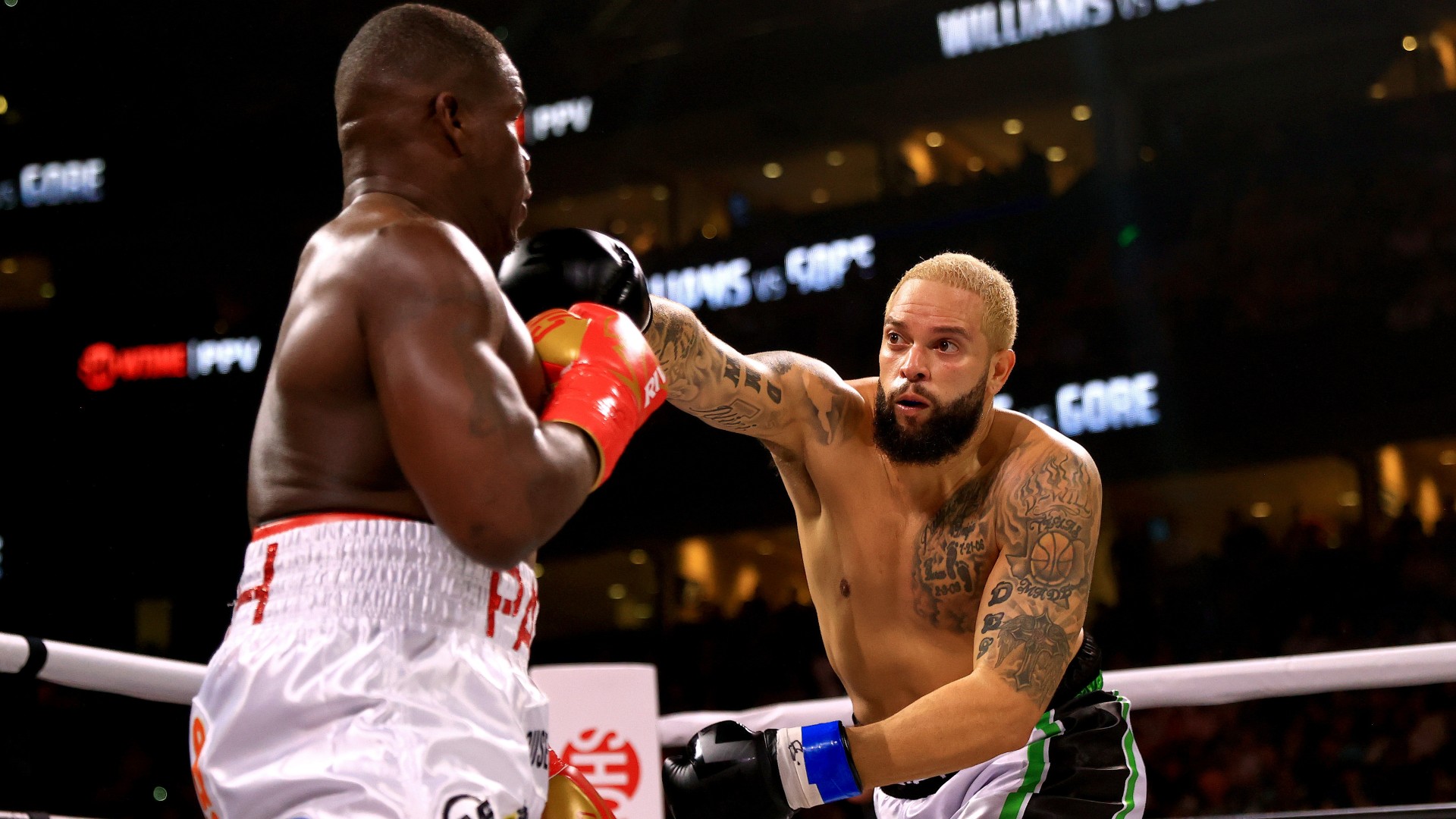 The fight between a former NBA star and a former NFL star looked exactly how you would expect: a lot of punches, a fair amount of pauses and plenty of excitement.
Former point guard Deron Williams demonstrated early that his 9-inch reach advantage would make a difference against former running back Frank Gore in a clash that featured little defense. Both came out of the gates firing shots at one another, and the second round featured plenty of grappling that required stoppages by the referee.
But in the third round, Williams landed a decisive knockdown of Gore, forcing his opponent to hang onto the rope to keep from falling. The judges scored the fight a split decision in favor of Williams in the four-round exhibition (40-35, 38-37, 37-38).
MORE: How did Deron Williams get into boxing?
Despite winning the fight, Williams confirmed to Showtime's Ariel Helwani he had no interest in returning to the ring.
"Honestly, I probably looked terrible out there. I feel like my last five sparring sessions, I was on point, my head wasn't coming up," Williams said. "Soon as you get out here, you start getting touched, it's a whole different — all your training goes out the window. It was fun, I was glad I had the chance to get out here and do it. But like I thought coming into this, I'm one and done."
MORE: Why Frank Gore and Deron Williams are fighting
Sporting News tracked live updates throughout the fight. Read on for what happened in Gore vs. Williams.
HALE: Is Jake Paul bad for boxing? No, and it's time for people to stop saying he is
Frank Gore vs. Deron Williams updates, highlights
(All times Eastern)
10:46 p.m.: Williams leaves no doubt about the future of his fighting career: he is one and done. 
10:44 p.m.: Williams named the winner of the exhibition by split decision: 38-37 Williams, 38-37 Gore, 40-35 Williams.
Round 4 (10:39 p.m.): Williams again starts off with a few jabs. Gore connects midway through the round, causing Williams to grapple with him. Gore sends another shot after they're separated. The final minute goes by quietly. Williams walks to his corner with his arms raised. Gore walks back looking exhausted.
10:36 p.m.: The next round will be the last of this exhibition fight.
Round 3 (10:35 p.m.): These two get right back to grappling with each other and hammering one another with jabs. Williams throws Gore into the ropes before Gore is able to flip it around. Gore tries to grapple, but Williams connects on several punches and the referee starts the count on Gore, who is able to continue. Gore and Williams swap right hands. Williams continues to control the round, though it featured more grappling than the previous two. 
Round 2 (10:31 p.m.): Gore tries to be the aggressor to start, but Williams counters and lands a few head shots. Gore starts firing a few shots to the head, and Williams ties him up on the ropes. Gore connects on another right hand. Williams counters and then knocks Gore down, under the ropes and nearly out of the ring. Referee has to call for the fight to be paused. Once Gore gets back up, he wrestles with Williams and throws him into the ropes, causing another stoppage. Fight resumes quickly and both exchange jabs. Gore falls down after he is pushed again by Williams. 
Round 1 (10:26 p.m.): Williams starts early with a hard punch on Gore. Gore has landed a few jabs, but Williams has made the most of his reach advantage early in the round. They grapple a little bit and the referee has to break it up several times. With just under a minute left, Williams lands several shots on Gore, who is able to duck and escape serious trouble near the ropes. 
10:22 p.m.: As the two fighters are introduced in the ring, Gore, a Miami native and Hurricanes product, is given the louder ovation. Williams is showered with boos.
10:18 p.m.: Williams now making his walk out to the ring. He's donning gear from his MMA gym, Fortis MMA.
10:16 p.m.: Gore walks out with a Halo Spartan helmet on. That's quite the entrance to make.
10:05 p.m.: Paro has been declared the winner by split decision against Alamo. Next up: Gore vs. Williams.
9:50 p.m.: Williams-Gore will take place after the end of the Liam Paro vs. Yomar Alamo fight, which is currently in the eighth round. 
Frank Gore vs. Deron Williams fight start time
Time: 9 p.m. ET | 6 p.m. PT
Main event: Midnight ET | 9 p.m. PT (approx.)
The Paul-Woodley 2 fight card is scheduled to start at 9 p.m. ET on Saturday, Dec. 18. Gore and Williams will make their way to the ring sometime after that, depending on the results of the earlier fights (and when the fighters are scheduled to fight).
How to watch Frank Gore vs. Deron Williams
TV channel: Showtime
Live stream (PPV): Sho.com, Showtime app
PPV price: $59.99
The fight will be on pay-per-view through Showtime. Once the PPV is purchased for $59.99, fans can watch the fight on Showtime's website or the Showtime app.
Outside the U.S., Latin America, Brazil and the Caribbean, the fight is available on FITE.tv.
Jake Paul vs. Tyron Woodley 2 fight card
Jake Paul vs. Tyron Woodley; cruiserweights
Amanda Serrano vs. Miriam Gutierrez; women's lightweights
Anthony Taylor vs. Chris Avila; super middleweights
Deron Williams def. Frank Gore by split decision (40-35, 38-37, 37-38).
J'Leon Love vs. Marcus Oliveira; cruiserweights
Liam Paro vs. Yomar Alamo; super lightweights