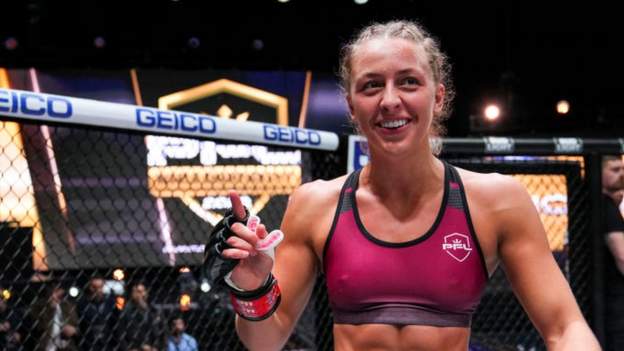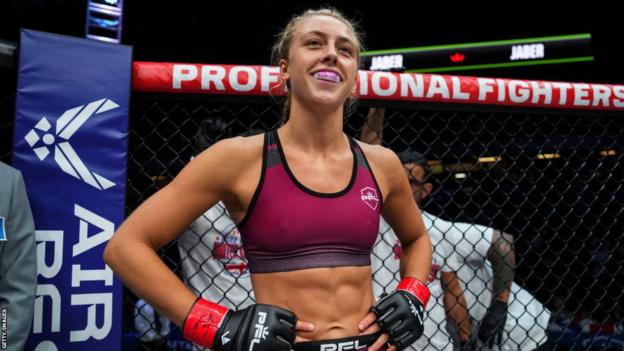 Ditcheva has finished six of her seven MMA opponents
Dakota Ditcheva played many sports when she was younger but there was one area she was drawn to the most.
With her mum Lisa Howarth being a former kickboxing world champion, it was inevitable that Manchester's Ditcheva, 24, who faces Sweden's Malin Hermansson at PFL Europe's debut show in Newcastle on Saturday, would follow a similar career path.
"I've tried gymnastics, dance, netball and football but I always came back to Thai boxing and MMA," Ditcheva tells BBC Sport.
"I think definitely it's in the blood with my mum being a fighter too when she was younger.
"She's been involved with it for over 30 years so being around that has kind of led me to this destination.'
Ditcheva was a world champion in Muay Thai before transitioning to MMA where, following an unbeaten five-fight start to her career, she signed with the PFL in July.
She has since fought twice in the promotion, earning impressive first-round finishes on both occasions to extend the unbeaten start to her career to seven contests.
With excitement around Ditcheva's potential growing among MMA pundits and fans, she remains grounded by simply being herself, both inside and outside the cage.
"I'm quite a sporty person but quite a girly girl away from sport. I think that's why I try and keep up the image when I'm doing the sport too, that I'm girly girly," said Ditcheva.
"I carry that over and I don't feel like I have to hide that just because I'm doing a fighting sport.
"From what people do say I'm quite giddy. People that know me closely say I'm quite emotional and most people would describe my laugh as quite funny. People often remember me from my laugh.
"I also support Man City so often I'm at the football if I get a chance. And I'm quite close with my family."
'I was star-struck but belong among MMA stars'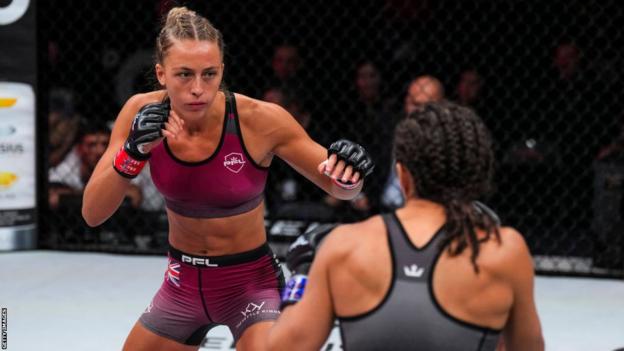 Ditcheva's elite striking has led to five first-round finishes
Since joining the PFL, Ditcheva has split her time between training in Manchester and America.
In the US, she trains at American Top Team's [ATT] gym, which is home to some of the biggest MMA stars in the world, including two-time PFL champion Kayla Harrison, Bellator champion Yaroslav Amosov and UFC stars Dustin Poirier and Jorge Masvidal.
Ditcheva says despite being initially star-struck by some of the athletes, she soon felt at home among them.
"I couldn't really believe I was there but at the same time I feel like that is where I belong. I see myself as one of the top girls and going to the top, so why shouldn't I be there really?" said Ditcheva.
"That's the level I want to be at. I really do hold my own with the top girls there so I feel I definitely belong there.
"My head coach is actually Conan Silveria, a well-known coach in MMA. And then Kayla Harrison, she's on the mats being trained by Mike Brown, so I think that's another big part of it, being around athletes who are doing the same as me and wanting the same as me."
Another benefit Ditcheva experienced is the gym is home to more women than she was used to training with in Manchester.
"There is a big difference training with girls," she said.
"Obviously men are just physically stronger than girls, so it's hard when I'm training to know how I'm competing with these girls when I'm basing it off training with guys all the time," she said.
"But even when I'm rolling on the floor, women's hips are different, the way we move is completely different, and I don't think a lot of people understand it until they do train with them [girls].
"So it's good to gauge where you're up to and what level you're actually at if you've got girls you can compete with, whereas with guys, I don't think you get a true match really."
Dakota Ditcheva: #ThisIsMe
'PFL Europe is going to be massive'
The event at the Vertu Motors Arena is the inaugural show in the PFL's new European circuit.
Fighters will also compete in Berlin on 8 July, with play-offs held at the Zenith Paris La Villette on 30 September.
The finals take place at the 3Arena in Dublin on 8 December, with the winners securing a $100,000 (£80,895) prize and a place on the PFL's American circuit.
Manchester's Brendan Loughnane won the featherweight tournament in the American format last year, securing a $1m (£808,950) prize.
Ditcheva has drawn inspiration from Loughnane's achievement and hopes to become the first British woman to win a world title in a major MMA promotion.
"I'm excited with it being back home. PFL Europe is going to be massive. I've heard how wild [the fans] are in Newcastle so I'm looking forward to it," said Ditcheva.
"I know Brendan and have watched his career since the beginning, so to spend the week there with him – I was on the same card – and be there at a time where he hit such a milestone was a really emotional time for everyone.
"It definitely inspired me. I get a lot of inspiration from what he's done and that's the path I want to go down. Brendan has done it for the lads and being from Manchester, so hopefully I can go and do it for the girls now."