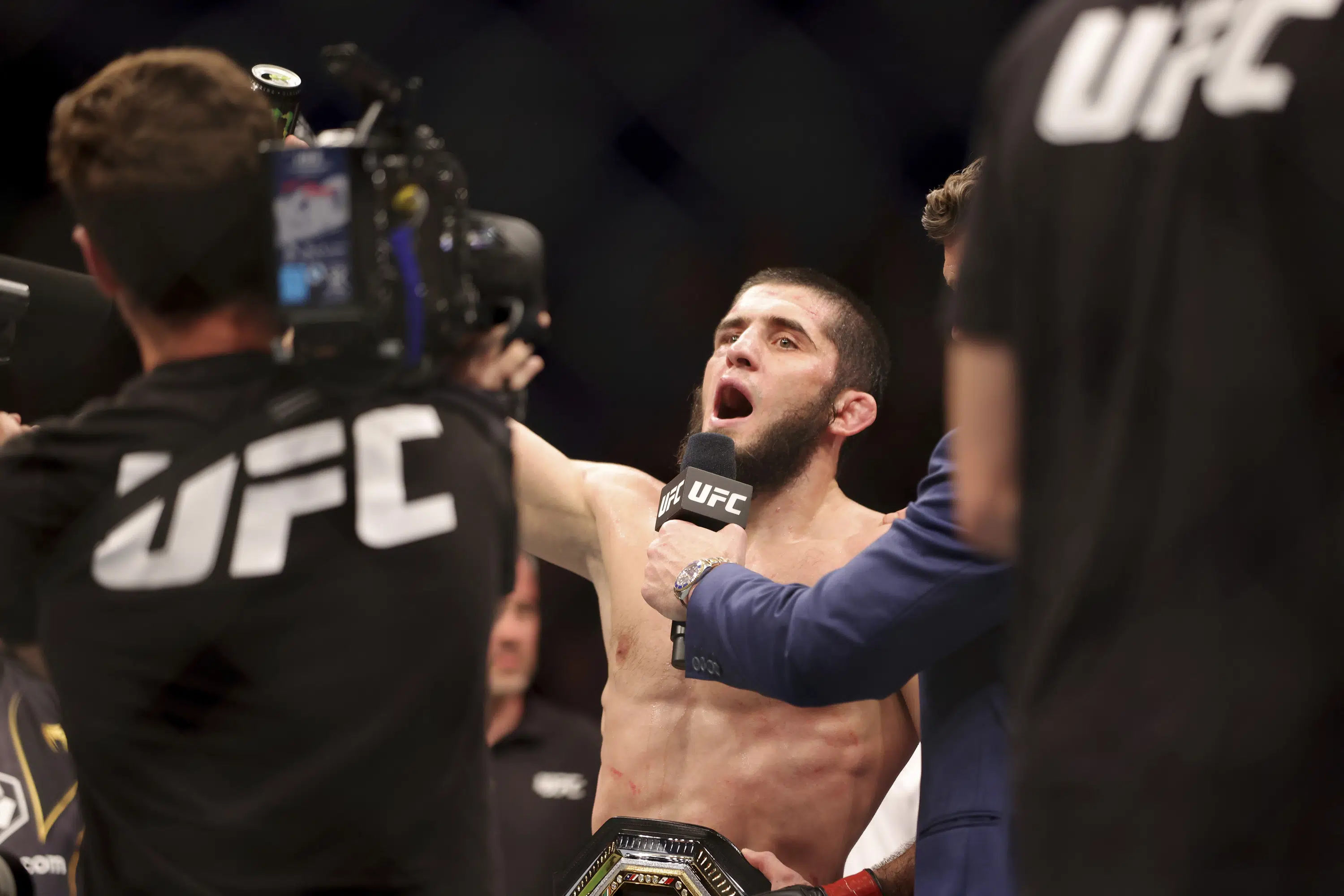 PERTH, Australia (AP) — Islam Makhachev defied a rowdy crowd and a sustained challenge from Alexander Volkanovski on Sunday to cement his supremacy in the UFC lightweight division in a grueling fight in Perth, Western Australia.
In the main event of UFC 284, Makhachev defended his 155-pound belt with an unanimous decision (48-47, 48-47, 49-46) to prevail in a five-round slugfest.
The 31-year-old also claimed the title of best pound-for-pound fighter from featherweight champion Australian Volkanovski, who saw his 22-win streak ended.
"People will call me not just 'champ', but 'best fighter in the world'. I'm very happy," said the Russian who was jeered throughout the fight by a sold-out 13,000 crowd at RAC Arena.
"I landed many good punches but he's strong and a real champion. He was the best fighter in the world…not now."
Makhachev (24 wins, one loss) had to fend off a furious challenge from the 34-year-old Volkanovski but his grappling and wrestling prowess proved enough.
Volkanovski, a former concreter and rugby league player, impressed as he moved up a division. He landed several blows and dominated for stretches of the contest but fell in his second defeat from 27 fights.
"It was a winnable fight. I'm very harsh on myself," said Volkanovski, who hopes for a rematch with Makhachev after suffering his first UFC defeat. "I'm still proud of myself and proved people wrong but I expected to win and could have capitalized on things earlier (in the fight). Maybe I held back just a little bit until the last round."
Considered the greatest UFC featherweight of all time, Volkanovski faced the toughest challenge of his career against an opponent four inches taller and 15 pounds heavier.
Volkanovski, who made his ring walk to the classic Australian song 'Down Under', needed to rely on his formidable striking and speed to produce an upset.
Both fighters felt each other out initially amid a febrile atmosphere before Volkanovski went on the attack as they traded blows.
But Makhachev got on top with his favored grappling and tried to choke out Volkanovski but was unable to.
Volkanovski, who holds the nickname 'The Great', survived a big left from his opponent in the second round before clawing back into the fight as it went the distance.
During a frenetic finish, willed on by giddy fans, a bloodied Volkanovski made his move and a big right-handed blow gave him one last chance, but Makhachev held firm to ultimately prevail.
Among the other bouts on the main card, Mexico's Yair Rodriguez choked out American Josh Emmett to become the interim featherweight champion.
"I've been dreaming of this moment since I was a kid," said Rodriguez before holding up his championship belt.
The 30-year-old, who earned the submission in the second round, will take on Volkanovski at a later date.
New Zealander Justin Tafa knocked out American Parker Porter in the first round of the heavyweight fight after landing a right uppercut.
In the welterweight division, hometown Perth hero Jack Della Maddalena defeated Jamaican Randy Brown by submission.
It was the first UFC event staged in Australia since the COVID-19 pandemic with the country enduring strict border controls for most of 2020 and 2021.
___
AP sports: https://apnews.com/hub/apf-sports and https://twitter.com/AP_Sports