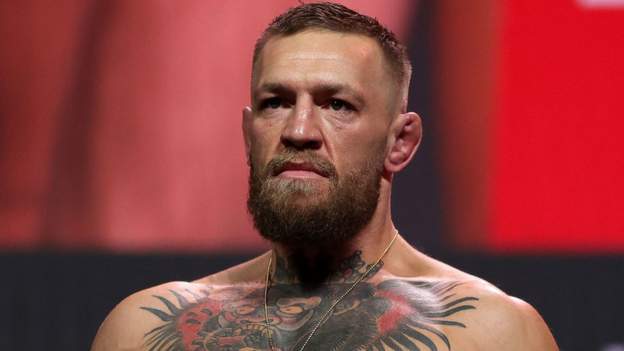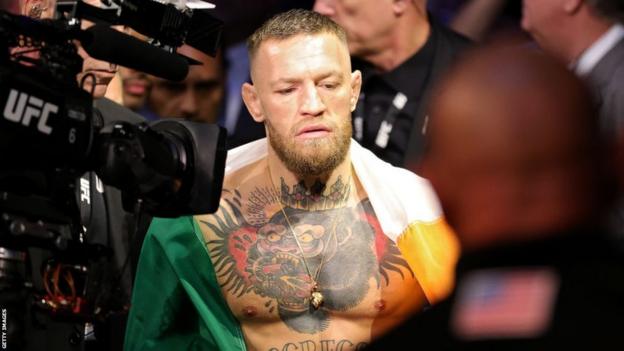 Conor McGregor's last win in the UFC was against Donald Cerrone in 2020
Conor McGregor does not need to re-enter the testing pool to coach on the Ultimate Fighter, say the United States Anti-Doping Agency.
Under Usada's rules, fighters must complete six months in the pool and pass a minimum of two tests before they can compete.
Coaches are exempt, however.
"For all the obvious reasons, coaches are not in our testing pool and there is no requirement for Conor McGregor or other coaches to be in the testing pool just to coach," said a Usada spokesperson.
UFC president Dana White confirmedexternal-link McGregor would go up against opposite coach Michael Chandler on the show, with the pair fighting before the end of the year.
Under Usada's rules, the earliest McGregor would be eligible to fight if he were to immediately enrol in the pool is August.
A Usada spokesperson added: "If there is eventually a plan for the coaches to fight each other, then Conor McGregor would have to be in the testing pool for at least six months and have two negative tests before any fight."
Former two-time UFC champion McGregor hasn't fought since breaking his leg in defeat to Dustin Poirier in 2021.
An exact date and location for his proposed return against Chandler has yet to be confirmed by the UFC.
American Chandler, 35, last fought in November, also suffering defeat to Poirier.