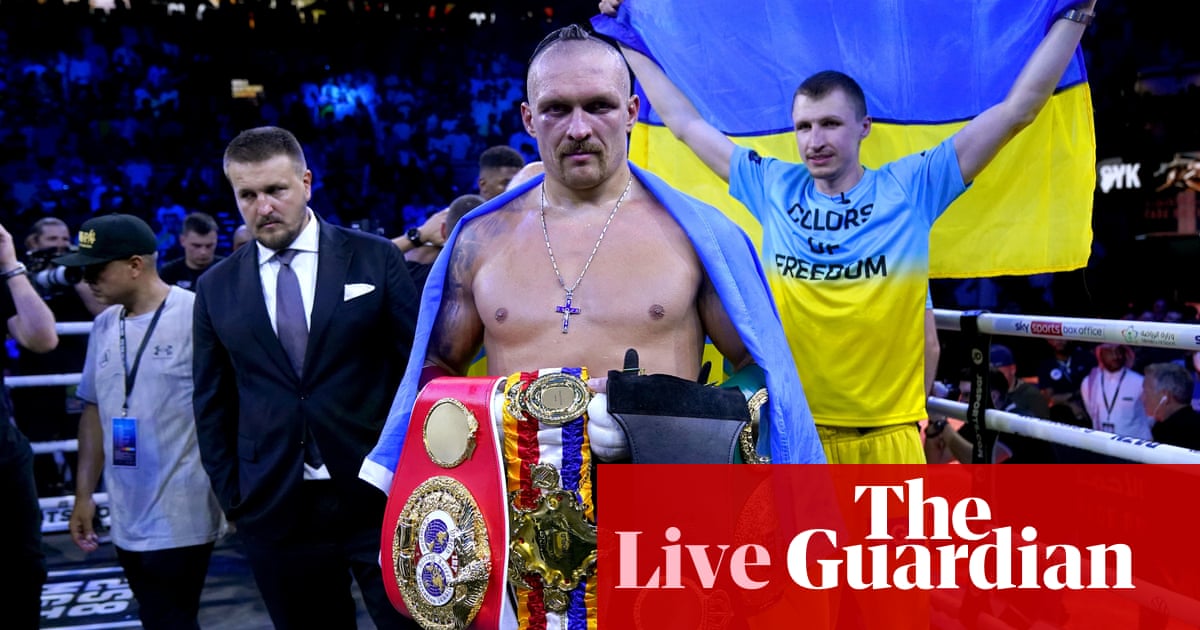 Key events
Show key events only
Please turn on JavaScript to use this feature
That's all for tonight. Thanks as always for following along and be sure to check out Sachin Nakrani's full report from Jeddah.
Fury: 'I will annihilate both of them on the same night'
Tyson Fury has entered the chat. Checking in from his movie-themed 34th birthday/retirement party in Manchester, the undefeated WBC heavyweight champion has posted his reaction to tonight's fight to his Instagram story, hinting at a return to the ring to fight Usyk and unify all four heavyweight title belts for the first time since Lennox Lewis in 2000.
Tyson Fury, checking in from his birthday/retirement party in Manchester, suggests that he will return to boxing to fight Oleksandr Usyk to unify the heavyweight championship for the first time in more than two decades. pic.twitter.com/fChRBjJfMR

— Bryan Armen Graham (@BryanAGraham) August 21, 2022
"To be honest with you guys, after watching that, the both of them were shit," Fury says. "It was one of the worst heavyweight title fights I've ever seen. It was bullshit! Come on! I will annihilate both of them on the same night. Fucking shite! Get your fucking checkbook out, because the Gypsy King is here to stay, forever!"
Updated at 20.30 EDT
"What performance from Oleksandr Usyk," says Eddie Hearn, Joshua's longtime promoter. "The ninth round I ran over. I thought we had it. The 10th round was one of the best rounds I've seen to turn a fight – not back around, because it was very close at that point – But what Usyk did in the 10th, the 11th and the 12th was incredible. And that was the difference tonight because AJ didn't start fighting fast enough, but he fought a much better fight [than last September]. He hurt Usyk badly the ninth. And I felt like going to come on strong but Usyk came out like a train. And as I said, that 10th round was the moment he decided to regain the fight. It was an incredible performance. He's just too good. You know, he is too good and there's no shame in it."
He continues: "You saw the reaction for AJ and that was from a human. He wanted to win so badly with so much pressure on his shoulders. And I think he just exploded because he lost and he was devastated and he's given everything to try and win this fight. He couldn't win the fight. He's a competitor. He is a winner, but this man's too good. That 10th round, the 11th round, the 12th round was just why this guy's pound-for-pound number one."
Hearn is then asked whether he believes Usyk could beat Tyson Fury.
"They're both tremendous fighters," Hearn says. "I'm not sure anyone can beat Oleksandr Usyk. You know, Tyson Fury is a clever man. He had the chance to fight him. He chose not to. Will he come out of retirement? Good luck to both of them. But you know, this man is an incredible fighter. AJ gave you everything. He had a great training camp. He was desperate, desperate to win this fight tonight, as you saw, but he wasn't good enough on the night and that's sport. That's high-level boxing. He lost 115-113. He lost a split decision to the pound-for-pound number one. There's no disgrace in that. But he's not pound-for-pound number one. He's got to go away if he wants to, come back, rebuild, get the frustration out. 'Cause you saw part of it there. And be happy. That's the most important one."
Usyk: 'If I'm not fighting Tyson Fury [next], I'm not fighting at all'
"This is already history," Usyk says through a translator. "Many generations are going watch this fight, especially the [10th] round, when someone tried to beat me hard, but I standed it and turned it in a different way. Thanks, God."
Usyk is asked whether he though he won the fight in light of the protestations from Joshua's corner. "Yes, of course," he says.
The champion is then asked about the one major heavyweight title that's not in his possession: the WBC belt held by Tyson Fury, who says he's retired from boxing for good.
"I'm sure that Tyson Fury is not retired yet," Usyk says. "I'm sure. I'm convinced he wants to fight me. I want to fight him. And if I'm not fighting Tyson Fury, I'm not fighting at all."
Does he believe he will become the undisputed heavyweight champion of the world?
"Only God knows whether I will or not," he says. "But all these gentlemen here around me, my team, they're going to help me."
"I want thank everyone who prayed for me," Usyk says through a translator. "I want to thank God for the help that he gave me today because he did give me a lot today. My Lord is Jesus Christ."
Then Usyk speaks to the crowd in English: "Thank you so much. Thank you. Thank you. Thank you so much. Inshallah!"
He continues, through a translator: "I devote this victory to my country, to my family, to my team, to the whole, to all people, the militaries who are defending the country. Thank you very, very much."
An incredibly strange moment in the immediate aftermath. Anthony Joshua has wrestled the microphone and gone on a four-minute speech giving tribute to Usyk. Even Rocky Marciano caught a stray.
If you knew my story, you would understand the passion. I ain't no fucking amateur boxer from five years old, that was an elite prospect from my youth, bro. I was going to jail. … I got bail and I started training my ass off, because if I got [inaudible], I wanted to be able to fight. … My cousin Bengo – where's he at, G-14 raise your hand! – I'm stealing this Usyk, I'm sorry. But it's because of the fucking passion we put into this shit, man. Guys, I'm telling you, this guy to beat me tonight – maybe I could have done better – but it shows the levels of hard work he must have put in. So please give him a round of applause as our heavyweight champion in the world.

Motherfucker, I'm not a 12-round fighter. Look at me. I'm the new breed of heavyweight. All them heavyweights. Mike Tyson, Sonny Liston, Jack Dempsey. "Oh, you don't throw combinations like Rocky Marciano!" 'Cause I ain't fucking 14 stone! That's why! I'm 18 stone and I'm heavy. It's hard work. This guy here is a phenomenal talent. We're gonna cheer for him three times. Well, how many belts you got now bro? Hip-hip [hooray]! Hip-hip [hooray]! Hip-hip [hooray]! Hip-hip [hooray]! Hip-hip [hooray]! Hip-hip [hooray]! Hip-hip [hooray]!

As I said, I was studying Ukraine and all the champions have come from your amazing country – I ain't never been there – but at the same time what's happening there is … I don't know what's happening, but it's not nice. I've seen it with Lomachenko in his second fight against Orlando. There was unrest in Ukraine, right or wrong. There was issues in Ukraine in your second fight, there was civil war. Vitali Klitschko when he faced Danny Williams, civil unrest. Usyk is the champion, please raise your hand! Under those circumstances, he managed to become champion! Champ, champ! Champ, champ! Champ, champ!
Almost debilitating cringe, all things told. This should have been Usyk's moment.
Updated at 19.55 EDT
Usyk retains WBA, WBO and IBF heavyweight titles by split decision!
Oleksandr Usyk has retained the WBA, WBO and IBF heavyweight titles with a 12-round split decision over Anthony Joshua. Ringside judges Victor Fesechko (116-112) and Steve Gray (115-113) scored it for Usyk, while Glenn Feldman (115-113) had it for Joshua.
Usyk's gas tank got him over again, as he pulled away over last 3 rounds, landing 79 of 232 punches to 29 of 149 for AJ. Usyk's 170 landed punches were most by an AJ opponent. Usyk's 39 landed in 10th were most by Joshua opponent. pic.twitter.com/el4ax8LYi8

— CompuBox (@CompuBox) August 20, 2022
Updated at 19.15 EDT
Round 12
Joshua looks spent. But then almost out of nowhere the Briton lands a big left hook followed immediately by a right hand. Usyk's motor is simply too good. He won't stop throwing and is trading shots with Joshua in a round that he probably doesn't need to have. What valor, from both men! Usyk lands a crushing left hook, followed by a three-punch combination. And there's the final bell. This one was closer than the first instalment and Joshua showed far better, but we should be looking at an uncontroversial points decision for Oleksandr Usyk.
Guardian's unofficial score: Usyk 10-9 Joshua (Usyk 116-112 Joshua)
Round 11
Joshua has shown in the last few minutes that he's dangerous at all times, but he's looking fatigued as Usyk has found a second wind and looks to pour on the punishment. The Ukrainian was far more active in the 10th and he's busier here in the 11th as well. Joshua smartly keeping targeting Usyk's body, but the champion is throwing and landing more. One round to go and Joshua needs a knockout on my card to salvage a result.
Guardian's unofficial score: Usyk 10-9 Joshua (Usyk 106-103 Joshua)
Round 10
Usyk lands a sneaky left hook, then a one-two combination that rocks Joshua to open the 10th. And now Joshua looks like he's in trouble. Usyk is opening up to the body. Joshua rocks Usyk with a right hand and the champion is hurt again, but Usyk fires back with shots to the head and body. Usyk is doing serious damage here, throwing and landing in flurries of punches. Joshua has backed up to the ropes on his own and it looks like he's tired. There's the bell and Usyk's 10th was just as dominant as Joshua's ninth. What a fight.
Guardian's unofficial score: Usyk 10-9 Joshua (Usyk 96-94 Joshua)
Updated at 18.58 EDT
Round 9
Usyk has slowed down a bit, perhaps feeling the effects of Joshua's dedicated body work. The head movement in particular has slowed down, giving Joshua a more stationary target. Joshua is upping the tempo and the pressure. Joshua is moving forward and letting his hands go with Usyk in retreat! Usyk looks like he's in trouble. Joshua is landing big shots but not punching himself out, picking his shots with intelligence. Joshua has Usyk reeling toward the ropes but he's able to make it to the bell. The most dominant round for either man tonight and surely Joshua's best in either fight.
Guardian's unofficial score: Usyk 9-10 Joshua (Usyk 86-85 Joshua)
Updated at 18.53 EDT
Round 8
Usyk slips at least a half-dozen punches as Joshua moves inside, but Joshua is able to land a couple more shots to the body. Joshua throws a mean right hook but Usyk gets away in the nick of time. Joshua lands a punishing three-punch combination to the body, his best sequence of the night, and Usyk briefly winces in pain while rushing in to clinch. That's the route for AJ and he needs to keep it up. A great round for the ex-champion. Usyk finishes the frame strong but it wasn't quite enough.
Guardian's unofficial score: Usyk 9-10 Joshua (Usyk 77-75 Joshua)
Round 7
Compubox informs us that Joshua has landed 16 body shots through at the halfway point after only landing 15 in the entire first fight, but it seems like too many of the bad habits from 11 months ago are beginning to surface. Usyk cracks Joshua with a sneaky inside left hand after slipping inside the job. Wow. Usyk is setting the pace and Joshua badly needs to shake things up before this one gets out of hand.
Guardian's unofficial score: Usyk 10-9 Joshua (Usyk 68-65 Joshua)
Round 6
Joshua is having his best success when he targets Usyk's midsection. More good body work by Joshua moves the Ukrainian back toward the ropes. But Usyk is slipping a lot of the upstairs shots and countering with aplomb. Usyk just doing a little bit more right now: busier, more accurate and fleeter of foot. Some close rounds but I have it four rounds to two to Usyk at the midpoint.
Guardian's unofficial score: Usyk 10-9 Joshua (Usyk 58-56 Joshua)
Round 5
A very good fight so far between two top operators. But Usyk is looking more and more comfortable, setting the pace with left hands down the middle and using his foot speed to pirouette out of harm's way. Joshua catches Usyk with a big shot right below the beltline and gets a warning from the referee. Usyk cracks Joshua with a big counter left. Joshua starting to look like he's trying to box the clever southpaw, which is a bad move.
Guardian's unofficial score: Usyk 10-9 Joshua (Usyk 48-47 Joshua)
Round 4
Usyk is looking more comfortable in there, even as Joshua continues to move forward and close distance. Usyk lands a big right hand about a minute to the round but Joshua takes it well. Joshua is really focusing on the body and scoring well there. Usyk is still punching in high volume but Joshua is answering every combination that he throws, which is something he didn't do in their first meeting. Usyk threw and landed more shots in that round than any of the first three according to Compubox's punch statistics.
Guardian's unofficial score: Usyk 10-9 Joshua (Usyk 38-38 Joshua)
Updated at 18.33 EDT
Round 3
Joshua lands a big right hand. He looks much better tonight so far than in the first fight and it's not been very complicated: a precise jab and well-placed straight right hands have made things a lot more complicated for Usyk. Usyk is throwing punches in bunches but not landing many, owing to Joshua controlling the distance well and better-than-usual head movement. Usyk lands a snappy left hand through Joshua's guard in the final seconds but it's not enough to undo all the Briton's good work.
Guardian's unofficial score: Usyk 9-10 Joshua (Usyk 28-29 Joshua)
Round 2
It appears Angel Fernandez is the chief second and the man in the ring for Joshua and not Robert Garcia as announced by Michael Buffer during the pre-fight introductions. Joshua is throwing more shots to the body and landing a few in the opening minute of the second. Joshua looks poised and patient as he looks to close the distance. Usyk working very hard to circle and move out of danger and also create openings. Joshua lands a sharp uppercut to the body. Another good right hand by Joshua. A great round for the former champion.
Guardian's unofficial score: Usyk 9-10 Joshua (Usyk 19-19 Joshua)
Round 1
And we're off. Joshua in all black trunks, Usyk wearing white with blue and yellow trim. Both men are circling one another in the center of the ring, the preferable area for the Ukrainian. A couple of Usyk jabs have gotten through. Joshua lands a right to the body but Usyk snaps Joshua's head back with a hard left jab. Not a ton of action in a feeling-out first round but Usyk has done enough to take it.
Guardian's unofficial score: Usyk 10-9 Joshua (Usyk 10-9 Joshua)
And the fighters are making their ringwalks following a performance of Saudi Arabia's national anthem. Joshua is first out as the challenger at just past 1am in Jeddah, making the short stroll from the tunnel to the ring in a black sleeveless Under Armour robe while Jadakiss's All for the Love plays on the arena soundsystem.
Now it's Usyk, the defending WBA, WBO and IBF champion, wearing the blue and yellow colors of Ukraine beneath a white sleeveless robe with a hood.
Both fighters are in the ring and we've got two more national anthems to come: God Save the Queen followed by the State Anthem of Ukraine.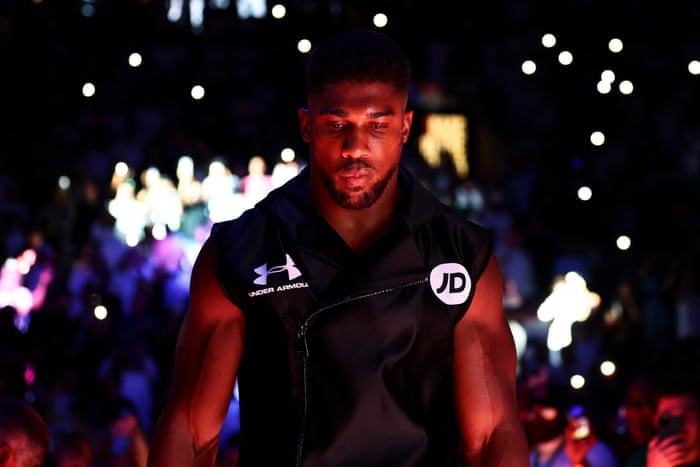 Anthony Joshua walks to the ring ahead of the main event on Sunday morning in Jeddah, Saudi Arabia. Photograph: François Nel/Getty Images
Tale of the tape
Here's a look at how Usyk and Joshua match up ahead of tonight's main event. Usyk came in at a lighter-than-expected 221½lbs at Friday's weigh-in, while Joshua tipped the scales at 244½lbs, four and a half pounds heavier than he was last year.
Filip Hrgovic has just won a 12-round unanimous decision over Zhilei Zhang by scores of 114-113 and 115-112 (twice) in the last undercard bout. That means the final countdown for the main event is on. Joshua and Usyk are expected to make their ringwalks in the next 15 minutes or so.
That's just enough time to read up on the major shake-up in Joshua's corner ahead of tonight's career-defining fight.
A refresher: Joshua's one-sided defeat to Usyk last September at Tottenham Hotspur Stadium was, above all, a tactical catastrophe. Rather than press his natural advantages in height, reach and power, the Briton curiously attempted to outbox the superior boxer in front of him. As the rounds progressed and Usyk mounted a commanding lead on the scorecards, Joshua was done no favours by a corner unable to implement anything even resembling an adjustment to alter the one-way traffic.
From the moment Joshua exercised his immediate rematch clause in the aftermath, it was clear that a sweeping change was necessary. That meant ending his decade-long partnership with Robert McCracken, the only trainer he'd ever known as a professional, who also guided Joshua to a star-making Olympic gold medal as the head coach of Team GB's boxing team at the 2012 London Games.

Joshua toured the United States at the end of last year in search of a replacement with Virgil Hunter, Eddy Reynoso and Ronnie Shields emerging as leading candidates. But he ultimately opted for Garcia, whose sterling reputation has only grown in the decade since he gained mainstream recognition upon being voted trainer of the year by America's boxing writers in 2012.

"He's a teacher, he's not a coach," says Abner Mares, the three-division champion who teamed with Garcia after a series of confidence-shaking defeats to regain the featherweight title in 2016. "A coach can put on mitts, just sit and look pretty and tell you what you do, but this guy teaches you. He guides you. If a fighter walks into his gym, he doesn't try to change how you stand or what you bring. He works with what you have, and that's what separates Robert from other coaches."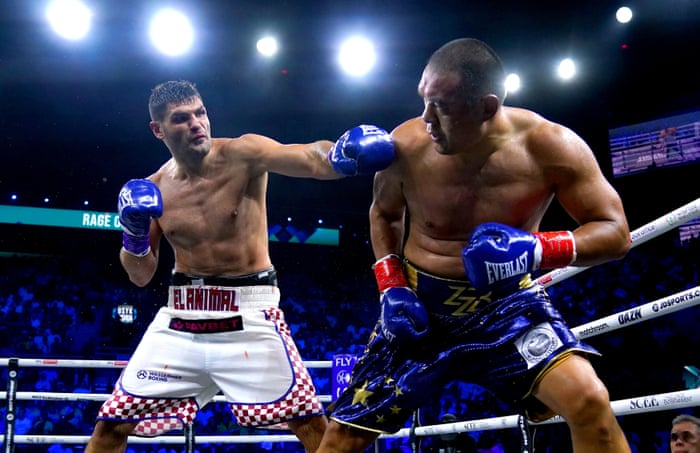 Filip Hrgovic, left, outpointed Zhilei Zhang by scores of 114-113 and 115-112 (twice) in their IBF heavyweight title eliminator on Sunday morning in Jeddah. Photograph: Nick Potts/PA
And now for the $80m elephant in the room. That's the record site fee which Saudi Arabia's sovereign wealth fund has reportedly paid for the right to stage tonight's rematch with Usyk and Joshua due to clear around $35m apiece. Nice work if you can get it.
But the event has also drawn fierce backlash from critics who accuse the Saudi government of using sports to launder the kingdom's dismal human rights record, alleged ties to the September 11 attacks, severe repression of women's and LGBTQ+ rights and the 2018 murder of the dissident Saudi journalist Jamal Khashoggi.
Those uncomfortable underpinnings were thrust to the fore again on Friday when our Sean Ingle reported that Joshua was urged to speak out by a pro-democracy activist whose brother was among 81 people executed by the state in March.
The Guardian can reveal that Joshua was recently sent a letter by Yasser al-Khayat, whose brother Mustafa was killed in the largest mass execution in Saudi Arabia's history, asking him to follow the lead of Muhammad Ali and Lewis Hamilton by standing up for freedom and human rights in the buildup to his world title fight which takes place in Jeddah on Saturday.

"My brother was executed by the Saudi Arabian authorities for daring to ask for basic human rights that you enjoy in the UK," the letter tells Joshua. "He was one of the 81 men killed in the largest mass execution in the country's history. Over half of them, including Mustafa, were executed for taking part in pro-democracy protests.

"Saudi Arabia executed him in secret and we weren't given any notice. We didn't have a chance to say goodbye and his body hasn't even been returned to our family for a proper burial. Our community is in mourning and our people are living in fear."
The issue of human rights in the kingdom was highlighted again last week when Salma al-Shehab, a Leeds University PhD student, was given a 34-year prison sentence for posting her support of women's rights activists on Twitter. The sentence was condemned as "outrageous" by Amnesty International.
Ali makes history with 65-second KO on undercard
History was made earlier tonight when the first women's fight took place in Saudi Arabia … and it was a quick one. Ramla Ali, the crowd-pleasing London-based Somali super-bantamweight, meted out a 65-second destruction of the Dominican Republic's Crystal García Nova in a non-title bout scheduled for eight rounds.
Ali, a 2020 Olympian, is trained by Manny Robles, who guided Andy Ruiz Jr to his seismic upset of Anthony Joshua in 2019. She improves to seven wins from seven fights as a professional.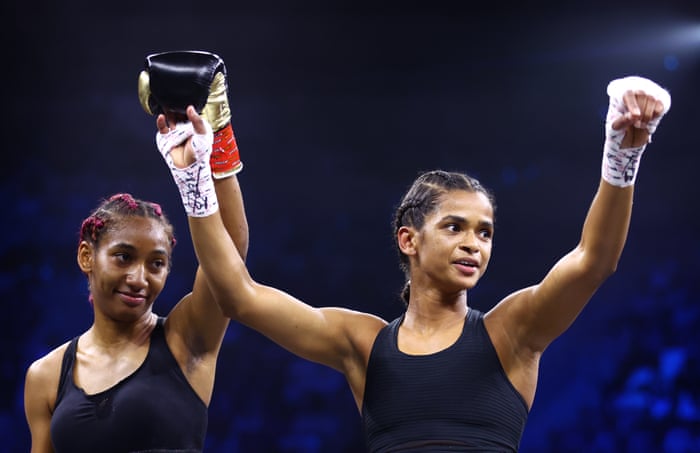 Ramla Ali, right, celebrates after defeating Crystal García Nova by first-round knockout in their super-bantamweight fight. Photograph: François Nel/Getty Images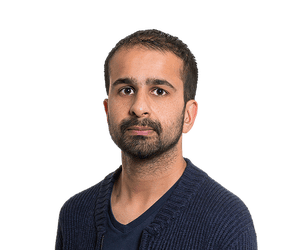 Sachin Nakrani
Tonight's fight is taking place at the King Abdullah Sports City complex, a sprawling site with outdoor sports field, a 10,000-seater arena – where the card is taking place – and, dominating the space, the Jeddah Super Dome, a huge spaceship-like stadium that has hosted various events in past, including the WWE Greatest Royal Rumble in 2018.
The 35,000-seat Super Dome was meant to stage this fight but, somewhat embarrassingly, they couldn't fill it. The arena has been less than half full most of the night, although I'm guessing it will be full by time Joshua and Usyk do battle, which is approximately 1am local time. It's also very hot and humid here still, although the air conditioning turned up so much in the media centre that I'm having to wear a jumper. Also, the food is sensational. Just eaten some lovely rice and shredded beef. There's loads of little cakes, too.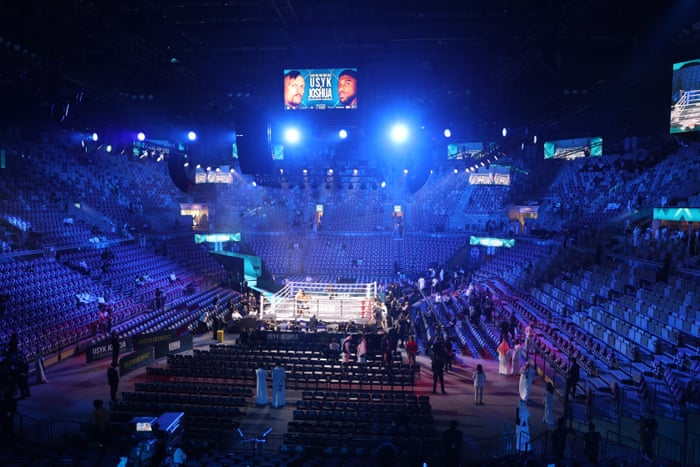 A general view of the ring ahead of the heavyweight unification rematch between Oleksandr Usyk of Ukraine and Anthony Joshua of Great Britain at the King Abdullah Sports Complex's Super Dome Hall in Jeddah. Photograph: Anadolu Agency/Getty Images
Preamble
Hello and welcome to Jeddah for tonight's rematch between Oleksandr Usyk and Anthony Joshua. There's a lot on the line for both men in tonight's main event at King Abdullah Sports City but perhaps even more for Joshua, who is going off as the underdog for the first time in his professional career in his bid to regain the WBA, WBO and IBF heavyweight titles he surrendered in their one-sided first instalment last year.
Some within the sport have suggested that defeat will leave Joshua with few options and should mark the end of his career. Joshua has disputed the notion, but there's no question those rumbling calls for retirement will only mount with a second straight setback.
Joshua firmly believes he can avoid a third defeat in his 27 fights, the other being his shock stoppage at the hands of Andy Ruiz Jr in June 2019, and instead is setting his sights on becoming a three-time heavyweight world champion, having previously reclaimed his titles with victory in his rematch with Ruiz Jr in Riyadh six months after their initial contest. In his return to Saudi Arabia, the 32-year-old also addressed the idea that a second defeat to Usyk would be a fatal blow to his future prospects, insisting that is unfair in as much as it his call.

"It's up to me at the end of the day, it's not up to anyone else what I do with my career," said Joshua. "I don't have to do this. Why do I do it? It's because it's all I know.

"This is also my 12th consecutive world title fight. I've been in world title fights back to back 12 times. It happens – if you're fighting people at world level, you're meeting people of world-level quality. I'm not fighting people who are below par."

This is a sentiment shared by Joshua's promoter, Eddie Hearn, who has labelled Usyk, who fights here having served in the Ukrainian army as part of the country's defence against Russia's invasion, a "genius" and insisted that should be taken into consideration if he is again victorious at the weekend.
Tonight's undercard has been whizzing along with a number of brief encounters forcing a couple of swing bouts into the queue. But we're still on schedule for the main event between Usyk and Joshua to get under way at about 12.54am local time (ie 10.54pm in London, 5:54pm in New York and 7.54am in Melbourne).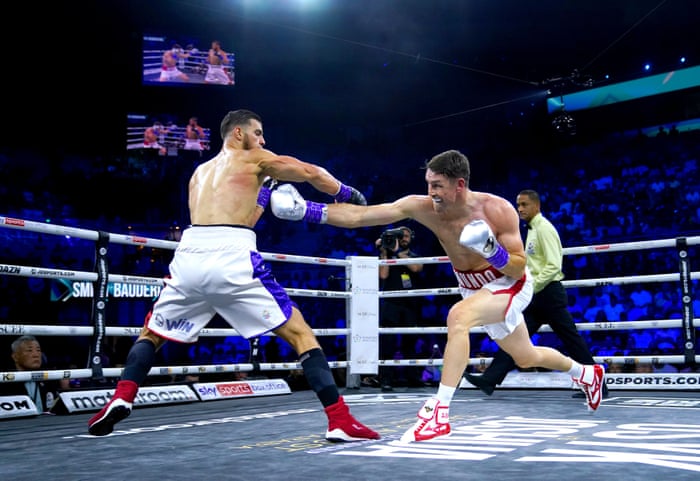 Callum Smith, right, ensured himself a WBC light heavyweight title shot with a one-punch knockout of Mathieu Bauderlique on the Usyk-Joshua II undercard on Saturday night in Jeddah. Photograph: Nick Potts/PA
Updated at 16.33 EDT
Bryan will be here shortly. In the meantime here's our Sachin Nakrani's big fight preview from the ground in Jeddah.