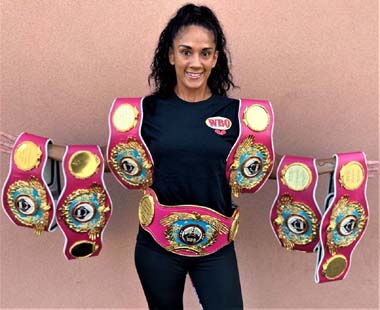 Women's boxing may have been around for a very long time, however it would be easy to argue that the sport has only just started to get the mainstream recognition that it deserves in recent years, especially with a number of talented boxers currently competing in the sport.
Indeed, there have been a number of top fights that have seen some incredibly talented female foes go up against each other in the squared ring, which has helped to create an entirely new audience and help make the discipline blow up in a way that may have been unimaginable previously.
Naturally, with all of the excitement and the buzz that continues to surround female boxing, there have been many who have turned to this resource for sports this resource for sports betting as the combat sport has provided them with an opportunity to enjoy some highly competitive and skilled action that can further enhance one of their passions.
Who, though, are the top female boxers currently in the sport and who are the ones to certainly keep an eye on in 2022 and beyond? Let's take a look at some of the highest-ranked fighters and those that have been ranked amongst the best in the pound-for-pound rankings:
Katie Taylor
When thinking of women's boxing, Katie Taylor is perhaps the biggest name that most people will know at the moment and that is simply down to the incredible work that she has been able to put in whilst in the ring.
The Irish fighter was highly decorated at the amateur level before turning professional, as the former footballer had a rather impressive record including a gold medal in the 2012 London Olympic Games. She turned pro following the 2016 Rio Olympics and has not looked back since, as she has managed to achieve a fight record of 20-0.
Indeed, she won her first world title in just her seventh fight before becoming the unified champion two fights later. In her 14th fight, she became the undisputed champion at 135-pounds, before picking up a title at 140-pounds, too.
She could be about to participate in the biggest fight that women's boxing has ever seen, with a bout against Amanda Serrano looking likely to be scheduled for April 2022.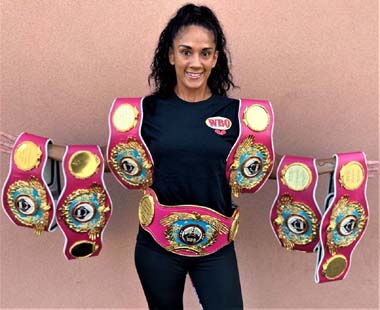 Amanda Serrano
Speaking of Serrano – who is being promoted currently by Jake Paul – there is no denying that the 33-year-old Puerto Rican boxer is one of the very best the women's disciplines of boxing has ever seen.
She has an incredible record of 42-1-1 and during her career, she has been able to become a seven-division world champion that seems to find going between 115 and 140 weight classes something that is incredibly easy to do. One example of where she managed to do this was in 2018 as she beat Yamila Esther Reynoso to win the junior welterweight title, before dropping down to super flyweight four months later to beat Eva Voraberger via a knockout to win the belt.
Of course, the fight with Taylor looks likely to be her next one and it is one that will certainly see two of the biggest female boxing stars compete against each other, with both likely to try and claim their spot as the best.
Claressa Shields
Let's not forget about Claressa Shields, though, as this American boxer is one that has been dominant ever since she turned professional in 2016. In fact, she was dominant in female boxing even as an amateur when she won the Olympics on two occasions.
She has been able to win each and every single of her 12 professional fights at the moment, with two of those having come via virtue of knockout and she is not shy of her talent, stating stating: 'You can put me on the men's pound-for-pound list because my skills are unbelievable'.
Indeed, she is one of the best and one that is certainly worth keeping a close eye on in the future!
Social Media
Women Boxing Archive Network
Instagram: @wbanbuzz
Twitter: @wbanbuzz
Facebook: facebook.com/groups/womensboxing/
 #          #           #          #
More Information on WBAN, go to our affiliated websites!
www.womensboxing.org
www.womenboxingrecords.com
www.wban2012.com
www.wbanmember.com
www.floridaboxing.com
www.iwbhf.com
www.wban.tv
WBAN's Group Facebook