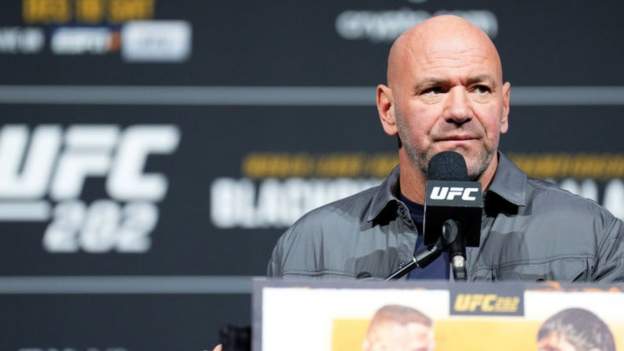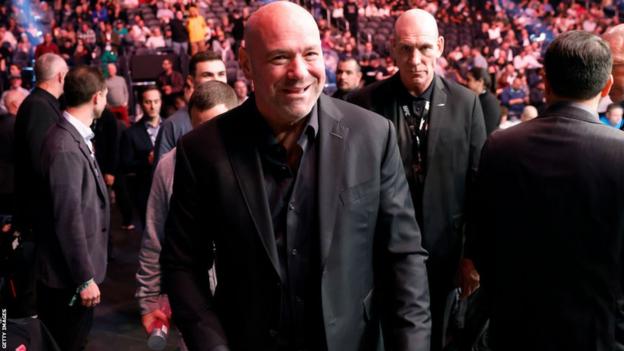 Dana White (centre) says he and his family were in Cabo San Lucas, Mexico to celebrate New Year's Eve on Saturday
UFC president Dana White says he and his wife have apologised to each other after a "horrible" incident in which they slapped each other in the face.
White, 53, and his wife Anne, were in a nightclub in Mexico on New Year's Eve when the altercation took place.
"There was a lot of alcohol involved, but that's no excuse," White told TMZ.
"You've heard me say for years, 'there's never ever an excuse for a guy to put his hands on a woman,' and now here I am on TMZ talking about it."
A video, released by TMZ,external-link showed White and his wife standing on the balcony of a VIP room at El Squid Roe in Cabo San Lucas.
Following what looked like heated words between the two, Anne hit White across the face after he grabbed her left wrist. White then retaliated by striking his wife before other members of the party intervened.
White said he and his wife had apologised to their three children.
He added: "My wife and I have been married for almost 30 years, we've known each other since we were 12 years old.
"This is one of those situations that is horrible; I'm embarrassed. Right now, we're more concerned about our kids.
"Since the video popped up, we've shown the kids the video. We're more focused on our family right now."
White helped convince brothers Lorenzo and Frank Fertitta to purchase the UFC for $2m in 2001, at which time White was named president of the company.
The brothers sold the company in 2021 for more than $4bn. At the time White reportedly owned nearly 10% of the company.